Content:
    

Trombone

Workshop

on the

Hesselnberg

2013

–

Review –

>
    

Week of concerts

in Brandenburg

&

Saxony

NEW!

    

Trombone

Workshop

on the

Hesselberg

    

Tower musicans

give

a sample

of their skills

from the

Jüterboger

Nikolai

Church

    

Sonus

trombone quartet

enchanted

audience
Workshop for Trombones – Pentecost 2014 Opus 4
In cooperation with the trombone quartet Opus 4 from Leipzig, the company Jürgen Voigt from
Markneukirchen and the Bishop Benno house in Schmochtitz there
of 6 – 09/06/2014 a 4-day workshop for enthusiastic amateurs and students.
More information can be found here.
NEU! – Konzertwoche in Südbrandenburg & Sachsen 2013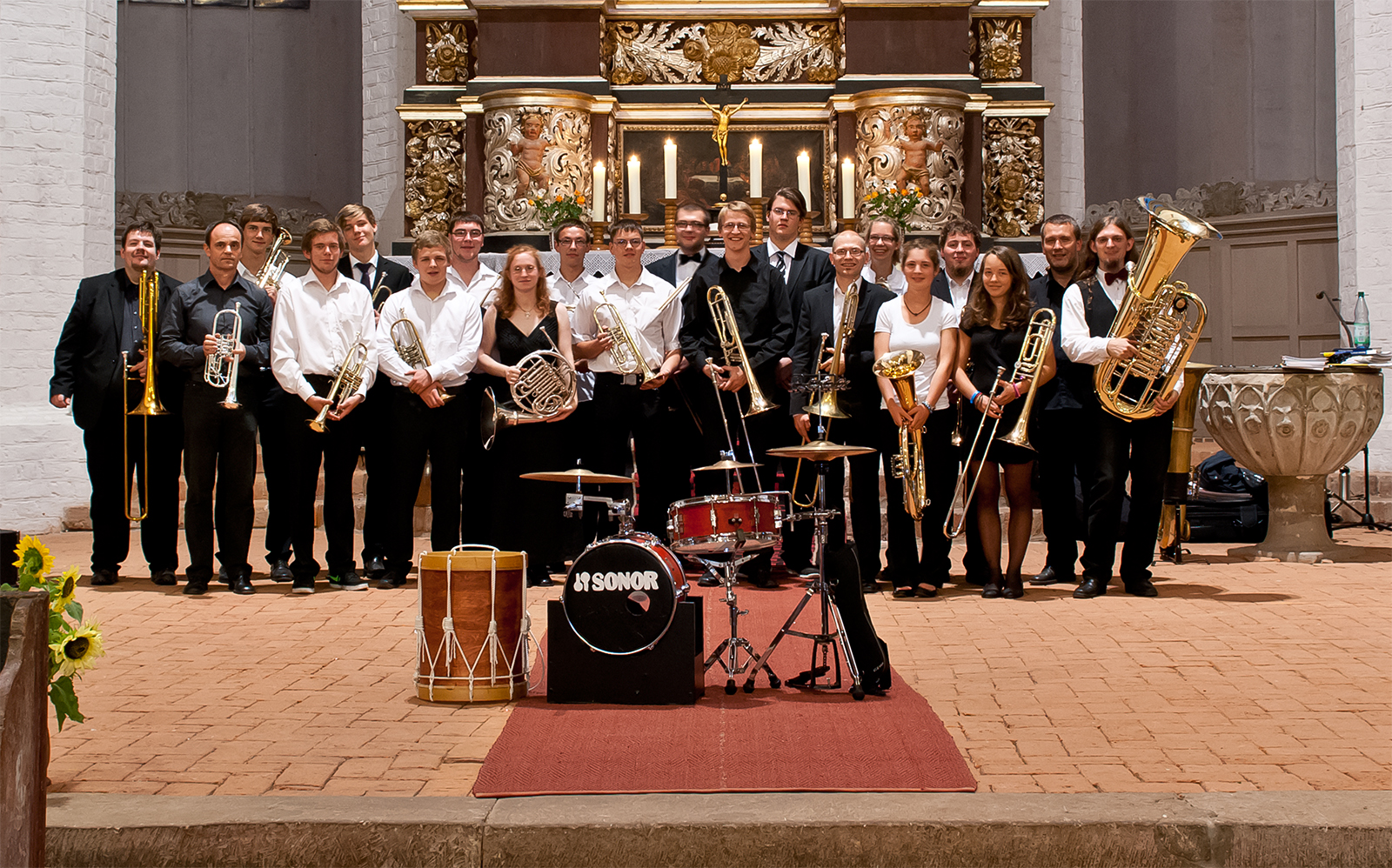 In 2013 there again in a week of concerts in which young people from all over Germany in Dahme / Mark meet. Together, a demanding concert program will be developed under the direction of the country trombone waiting Jörg-Michael Schlegel in short, intense rehearsals.
From the Renaissance to modern music there is a broad musical spectrum on the sample plan. And of course, comes at the 16 – 30 year-old also shared leisure is not too short. The worth listening to concerts take place at the following locations:
14.8.

18:00

in the village church

Riesdorf

/

Flaming

15.8.

19:30

in the village church

Kolochau

16.8.

19:00

in the

Church of St.

Nicolai

Jüterbog

17.8.

16:15

Tour

Kriebstein

18.8.

18:00

at St.

John's Church

Mügeln

Oschatz
Trombone Workshop on the Hesselberg
From 9 to 11.9.2011 a trombone workshop for ambitious amateur musicians took place in Franconia on the idyllic Hesselnberg. Under the guidance of a lecturer and six faculty members who are all professional musicians, you could allow them to participate on the fingers or on his instrument.
The organized periodically by Frank Möwes workshop was well attended again this time. 72 musicians with a bass trombone, tenor trombone, alto trombone or even a contrabass trombone were to be found there. And from where it all came from Franconia is already noteworthy. From Bremen, from the Ruhr, from Berlin, from Saxony, from the Allgäu region, Switzerland, and even from the Czech Republic participants had arrived. They were all eager to learn new tips and ideas that will help improve your game.
With the trombonist Ina Goelzenleuchter and the trombonist Jörg Richter, Michael Peuker, Stefan Meiner, Honza Gimaletdinow, Hans-Martin Schlegel and Andre Stemmler Frank Möwes was able to secure a fine selection of faculty for this workshop for this year.
The four gentlemen of Opus4 announced on Saturday evening even a workshop concert, which was very well received by the laity and freely put even more energy to practice.
The course of the three days was very well thought out. With one-hour units for importing and improving the technique and a half to two-hour units of ensemble playing, it was possible even more difficult pieces to work with "his" faculty. Furthermore, the lecturer was changed regularly, so you could sometimes get to know the other teachers in the one-hour units. As no questions from the participants remained open.
To come with the manufacturers of the instruments into the conversation and to times to blow one way or another trombone, the Company Concours International and J.Voigt were represented with a selection of their product range.
Overall, there

were

three very nice

days with

great

encounters,

great conversations

,


lots of information

and

wonderful music

.